Welcome to the Strawberry Shortcake Wikia!
A growing database dedicated to documenting all information about Strawberry Shortcake.
We have 11,116 edits made, 165 articles created and 2,964 images uploaded since August 2008.
Feel free to join the community!
About 2 years after Strawberry Shortcake's Berry Bitty Adventures, the 2009 Series on June 30, 2017, DHX Media had acquired the Strawberry Shortcake brand from Iconix and announced on it's website that along with Iconix, it would be both co-producing a 2018. An artist rendering of the characters' new look was later created in July 2017 by DHX Media. Later that month, DHX Media began the series' production. Word of the series spread across all sorts of news outlets and social media. A promo was created uploaded on YouTube by DHX Media in June 2017 but was later deleted from its channel for unknown reasons a week later. Reel FX Animation and Splash Entertainment joined the development in December 2017.
Featured article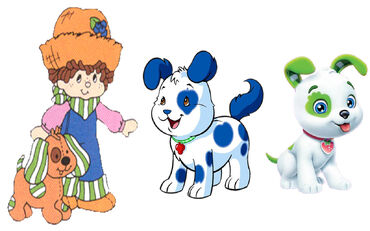 Pupcake
Pupcake is a dog who was originally owned by Huckleberry Pie in the 1980s but is currently owned by Strawberry Shortcake in both in the 2000s and 2010s renditions.
Latest Show Update
2018
The 2018 reboot has brought back the character Lime Chiffon.
It appears that Lime Chiffon is now Hispanic and Blueberry Muffin is now Asian.
Blueberry Muffin is the only girl not wearing a hair accessory.
Lemon Meringue is the only girl wearing no skirt or dress.