Strawberry Shortcake is the eponymous protagonist of the Strawberry Shortcake franchise. She is stated to be the "unofficial princess" of 'Strawberryland' and is often seen wearing a pink hat with a strawberry design. In the 1980s version of the franchise, she lives in a shortcake, while in the 2003 version, she lives in a strawberry home.
She shares her berry bungalow with her baby sister Apple Dumplin', her sarcastic Custard, and her mischievous dog named Pupcake. In the 1980 series, Strawberry was an only child and Apple Dumplin' was just one of her friends, while Pupcake was owned by Huckleberry Pie. In the 2009 version, Strawberry calls Apple her cousin.abd they are the same age. She had a horse named Honey Pie Pony in the 2003 series.
Strawberry Shortcake is a cartoon character originally used in greeting cards, but who was later expanded to include dolls, posters, and numerous products. Then, TV specials, and two very popular series.
Many of Strawberry Shortcake's days are spent in the simple pleasures of tending Strawberry berry vines. Strawberry also likes to spend time with her friends, so she frequently visits nearby lands. Strawberry is always cheerful and is ready for helping her friends at any time.
In the 1980s, Strawberry was 6 years old. She was independent, but soft and frequently cried. She seems about 9-10 in the 2003 series. In Season 4 of the 2003 version, the show fast forwards to show her as a 16 year old. In the 2009 version, she looks like a 17-19 year old and has a full time job, but enjoys juvenile activities a tween girl would like. In the 202x version, she looks 10-12 years old.
Strawberry Shortcake is voiced by Russi Taylor (1980s), Sarah Heinke (2003-2008), Anna Cummer with Tracey Moore as her singing voice (2009-2015), Alison Leigh Rosenfeld (2018-present)and Holly Gorski (future).
Personality
Strawberry is a bright and perky young girl. She is kind, friendly, supportive, and always ready to help a friend in need. She loves strawberries and baking. She has some spunk, but is very soft as well and sensitive, she cries often which can be expected by her age.
Unknown much about her personality due to the fact, not producing a animated series but from the official art, it seems as though Strawberry enjoys dancing much more than her usual interest of baking.
Strawberry Shortcake is athletic and enjoys playing sports or riding horses, and is a creative baker at the same time. She also likes gardening, which is why there are a handful of large strawberries around her house. She generally is a tomboy who is usually outside, but every once in awhile enjoys dressing up or pretending to be a princess. She loves her sister and not failing to share equal love towards both her pets. Whenever there is a big event in Strawberryland, you can bet that Strawberry Shortcake was the one who had the idea. Despair almost not appeared in her dictionary, and when it does, it does not take long for her to gain back her optimism. She likes music (singing and dancing), and she always does both whenever she has the chance. She is also a intelligent girl who can quickly find the right solution whenever a problem arises. She's also curious, eager to try something new, go to a place completely new for her, and make friends with a full stranger. By the time of Year 4, her personality has matured, which is implied by her taking a part-time job and considering what her future career will be.
Strawberry is fun and feminine, and she loves hanging out with her friends in Berry Bitty City. She loves to help her friends out of tough spots and is supportive and helpful. While she runs her Berry Café, she's always preparing to lend a helping hand or go on an adventure. Her optimism is communicable and she always sees big possibilities in everything. She is kind and patient but can occasionally get frustrated and whine and pout. She's a hard worker and is often busy.
Strawberry is a determined young baker who moved out from her home back at Berryville and into Big Apple City to achieve her goal of wanting to become the world's best baker with the help of her Aunt Praline and her friends. She's energetic, hyper, giggly, and perky. She's quirky and fun. She's girly but not afraid to be tough. She works really hard and her energy helps keep her on her feet.
Appearance
The characters of the Strawberry Shortcake franchise have undergone several design changes. Strawberry was originally created in 1980, but THQ changed her in 1991. Strawberry's 1991 appearance was altered drastically in 2003. It changed again in Year 4 of the DIC series' run and in 2009 with the Berry Bitty City story arc.
1980s
Strawberry resembles a stuffed rag doll with freckles. Stitches can be seen occasionally on her or Custard. She wears a bonnet with a strawberry design. Her eyes are brown and her hair is naturally red and her hair styled in ringlets. She has a section of blunt bangs on her forehead. She wears a red maiden dress with three green diamonds on the white cloth and kisses running down the cloth. She wears white and green striped stockings and white doily bloomers. She wears brown shoes. She is six years old.
1991
Strawberry does not wear a hat. She wears a pink formal dress. She also has a headband and has ballerina shoes. This is the only time her character has blue eyes. Her hair is auburn and is long and wavy.
2003
Strawberry's appearance is that of a preteen, older than in the 80s and more mature acting. Age ranging from 8 to 10. She has messy curly auburn hair. She now wears a white long-sleeved shirt with red stripes (which appear dark red in Year 3). with a pair of blue jeans. A red jacket is tied to her waist. In place of her muffin-looking bonnet, She wears a pink sun hat with a strawberry design and a red band with a strawberry on a green and white striped ribbon. She wears brown loafers. She wears different outfits. In the summer, she has a pastel pink swimsuit that reveals her stomach. As a mermaid, she has a hot pink fin.
2007
Strawberry wears a pink and white striped hoodie with a pink T-shirt underneath. She wears the same blue jeans, but now usually added more detailed showing the zipper and pockets on the sides. Her hair has grown out and is darker, slightly less natural looking color. Her hat design has not changed, but the hat band now matches the bow's color and pink Mary Jane shoes. She is at least 16 now because in season 4 she can drive. She wears different outfits like formal wear
2009
Strawberry's cap that resembles a strawberry, a green visor design, and a leaf on the top. She has bright red-colored hair. She wears a short-sleed white top with green diamonds and a strawberry design and the skirt is pink with a red polka-dot design. Her stockings are white and green striped. She wears red Mary Jane shoes. She wears different outfits like Halloween.
2018 prototype design
Strawberry has apricot skin, green eyes and chin-length slightly unkept strawberry pink hair. She wears a red knitted hat, a sleeveless white dress that has a strawberry design on it and strawberry-coloured straps. She also wears white and green knee-high socks and red sneakers with white trim.
2021
Strawberry has a more casual look, she wears her pink long hair down and has a strawberry beanie on. She's wearing a white mini-dress with a strawberry design on the middle of the dress and a denim jacket on top of it. Strawberry is wearing green and white striped leggings underneath the dress and has red sneakers on that have a strawberry logo on the side of it. She carries around with her a strawberry shaped pursed that is on her shoulder.
Pets
1980
Custard
She had her cat Custard, who was a boy, did not talk and was very lazy.

Lucky Bug
Lucky Bug is a lady bug who hovers close to Strawberry Shortcake at all times. True to her name, Lucky Bug brings good fortune to Strawberry. Lucky Bug is rather philosophical by nature and although she can't speak, she listens with great patience to Strawberry and her friends. Lucky has few insect friends and as a result, fancies herself as Strawberry Shortcake's peer. She is an often forgotten friend.

2003
Custard
Custard is Strawberry Shortcake's sarcastic, tomboy pet cat. Though she has a tendency to see the glass half-empty, she's very clever, funny and an affectionate pet who loves her owner. She has an affinity for tuna and enjoys peace and quiet. She often gets mad at Pupcake but deep down they are like loving siblings.

Pupcake
Pupcake is a dog Strawberry later adopted. Pupcake is a panting, tail-wagging whirlwind of innocent energy that often accidentally turns destructive. This dog is a mess or mishap just waiting to happen. Good thing he's so lovable!

Honey Pie Pony
She is more of a companion than a pet, but Strawberry is her rider. Honey Pie is no ordinary pony. First of all, she talks. Secondly, she's been almost everywhere. Thirdly, she almost never stops talking about where she's been. She's a bit prone to exaggeration, too, so some of her stories get to be a bit incredible.
2009
Custard
Custard once again is a silent animal, but unlike 1980s, she shows no personality besides being 'cute'. She is very well behaved and placid, not acting temperamental like other cats, or herself in previous generation.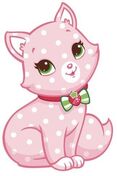 Pupcake
Pupcake has also been blandified. Gone is his crazy energy, now he is just a friendly and curious pup. He now sports green spots, and less of them too.

Trivia (please help fill this in!)
It has never revealed what has happened to Strawberry Shortcake and Apple Dumplin's parents, and it is assumed they are orphans.
Strawberry's eye color has changed overtime, she had gone from brown, to blue, back to brown, and currently has green eyes.
Strawberry loves to read, her favorite genre is Fairy Tales.
Her favorite books specifically are Cinderella and Around the World in 80 Days.
Despite it not being said officially, Strawberry often appears to be attracted to other girls, making her canonically sapphic. Many of the songs she sings has 'I love you' in the lyrics, sang to other girls.
Strawberry Shortcake only likes sweetened tea, she hates herbal teas. In fact, it is the only food she has ever shown disgust towards.
Strawberry is shown to have copious amounts of raincoats. ("The Play's The Thing") ("It Takes Talent").
Sanrio created a pastel variety of Strawberry with pink hair and a bonnet.
Gallery