First introduced in the 1980s Series, Sour Grapes initially appeared as Purple Pieman's old partner-in-crime. During the 2006 update, she was introduced as Purple Pieman's sister. Now in 2009, she is a whole new person; Sour Grapes (Young Girl) is a nicer girl who just moved to Berry Bitty City with her sister Sweet Grapes.
Personality
1980's

Sour Grapes is significantly smarter than the Pieman and has mentioned that she has made many successes in robberies and other feats while he has had none. She is also very greedy, not hesitant at all to sell Fig Boot in "Strawberry Shortcake and the Baby Without a Name". She is capable of emitting a loud noise that annoys the Pieman greatly.

2006

Sour Grapes was reintroduced as the Purple Pieman's sister. In a number of ways, her personality stayed as it had been before. As in the '80s, she chided the Pieman for his ridiculousness. Unlike her '80s form, however, Sour Grapes had a greater sense of morality this time around. Also changed was her position in the crimes; whereas before she had suggested schemes herself and often talked the Purple Pieman into them, this time she was the follower and it can be argued that she followed out of affectionate familial devotion. Despite her shortcomings witnessed in the episode "Queen For a Day" and despite her initial reactions to the children, she was repeatedly shown to be quite maternal and intelligent. When excited, her personality often changed from that of a bitter adult to a playful young girl. Though irritable, to emotionally reach her for the better was not at all a hard task. An allergy to strawberries, a susceptibility to headaches and hints to poor physical health in general further added to her depth of character.

2009

Looking for the teenage girl version? Refer here!
Appearance
1980's

Sour Grapes has Caucasian skin and dark purple hair. She wears very dark purple lipstick (light pink in "Strawberry Shortcake Meets the Berrykins") and earrings that look like bunches of grapes. She has a beauty mark. She wears a pink evening gown, with a short lavender cape. She wears light green gloves and high-heels. She is often seen with her pet snake wrapped around her arms like a boa.

2009

Looking for the teenage girl version? Refer here!
Trivia
1980's

Her pet snake is possibly a boa constrictor, which would explain why she wears it like a boa.
She has a niece, Raisin Cane, that only made an appearance in a comic book..

2006

She never had a doll as a child, paralleling Raspberry Torte's arc in the Sweet Dreams Movie.
She was an anti villain, while Raspberry Torte and Peppermint Fizz were anti heroes.
She is an Aries. Her birthday is April 1st.
Her teaching abilities are referenced twice in sympathetic episodes, Dancin' in Disguise and A Princess Named Rap.

2009

Looking for the teenage girl version? Refer here!
Pets
Sour Grapes Has A Pet Snake Named Dreggs Who Appeared In 1980s.In 2003,Her Snake Debut In The Episode Queen For A Day.In 2009,Sour Grapes's Design Is Younger And Dreggs Couldn't Show Up In Berry Bitty Adventures.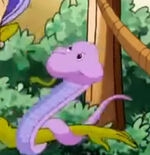 Gallery