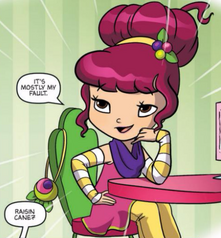 Raisin Cane is Sour Grapes' niece in the 1980s, and in 2018, Sweet Grapes and Sour Grapes (Young Girl)'s cousin. She appears in comics, and the 2018 2D animated YouTube Series. She is an antagonist.
Appearance
1980s
Raisin Cane wears earrings that match those of Sour Grapes. She has dark purple, curly hair tied into a ponytail with a green ribbon, a lavender dress, green and white striped leggings, and shoes that resemble Cherry Cuddler's. She has overgrown and ungroomed eyebrows. Her nose is upturned.
2018
Raisin Cane has pale skin and light burgundy hair. Her hair is curly somewhat and is pulled into a bun. She has bangs. Her eyes are lavender like her cousins. She has a purple and pink button up dress with a belt with a grape charm on it. Her leggings are orange and white striped, and she has purple loafers with a grape on it. She holds her bun with an orange hair band with three different color grapes on it. She is often seen with her cell phone.

Personality
1980s
Raisin Cane was introduced in the 1985 Star Comics Strawberry Shortcake title. She is Sour Grapes' adolescent niece. In her first appearance, she was selected to infiltrate Strawberryland's annual pie baking contest. By the end of this adventure, Raisin realized that she wanted to be friends with Strawberry Shortcake and her companions, but her loyalties were still with her aunt and the Purple Pieman. Her pet is a worm named Durt. Due to her comic only appearance, she remains a fairly obscure character. She was not rereleased for the 2003 series. The two distinctly different sides to her character were filled through the new characters Peppermint Fizz and Rainbow Sherbet. Her name is a pun on the phrase "raising Cain".
2018
Raisin in the Berry Bitty 2D series is Sweet Grapes and Sour Grapes (Young Girl)'s cousin who is a diva and a brat. She is greedy and selfish and she is obsessed with social media. She will manipulate people into doing things that help her internet presence. She seems to be a mild, well behaved sociopath. She is always scheeming and is a partner to the Purple Pie Man. Apparently she can make ice sculputures. She still has her pet worm, Durt. Her cousins don't like to be around her that much. Raisin has shown some kindness towards her family, like helping Sweet Grapes preform in the dance show while she has a sprained ankle. It is unknown who her parents are, and whether or not she is related to the Purple Pie Man. The Purple Pie Man might be her father in this generation but that is unknown.

Gallery
Trivia
Her name is a pun on the term, "Raising Cain", which means causing trouble.
Her existence would technically mean that Sour Grapes has a brother or a sister somewhere.
In the Berry Bitty Adventures comics, she wears yellow jeans. Making her the first BBA character to have her normal outfit include pants.