Jurassic World: Dominion Dominates Fandom Wikis - The Loop
Play Sound
The Peculiar Purple Pieman of Porcupine Peak is the main antagonist of the Strawberry Shortcake franchise.
Franchise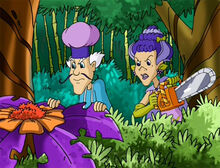 1980s series
In the 1980s series, the Purple Pieman is shown living in a ramshackle tower of cookware dubbed The Pie Tin Palace, situated high atop Strawberryland on a cursed, abandoned, drought stricken land known Porcupine Peak. In his tower, he had a wealth of baking supplies, such as ovens, pans, and dough. The Pieman also possessed a magic pie tin, which he sometimes used to spy on the residents of Strawberryland. While he was a clever liar and cheat, and a convincing master of disguise, he was an admittedly poor baker in the '80s specials. The Purple Pieman frequently referred to himself in the third person, and always performed a quick jig after doing so. He dislikes snakes and Sour Grapes' singing, but hates Strawberry Shortcake's 'Berry Talk' (that is, to substitute "berry" for any word that rhymes) above all else. Mr. Sun describes him as a "misanthropic fathead with a skinny physique" in Strawberry Shortcake in Big Apple City.
2003 series
Pieman returned in the 2006 film Strawberry Shortcake: The Sweet Dreams Movie and in the tie-in game based on the film, wherein he plotted to destroy and take over the whole world and convert it into Porcupine Peak, killing everyone in the process. He was actually a good baker in this generation. He has caused World War Berry, the closest instance of him destroying the whole world. He could occasionally be convinced to be good, with encouragement from his more positive sister. Strawberry Shortcake, Angel Cake, Orange Blossom and Blueberry Muffin managed to reform him in the last episode. He now has a steady job baking pies for the movie theater's concession stand.
2018
He appeared in the 2D animated shorts of Strawberry Shortcake Berry Bitty adventures. He is an accomplice of Raisin Cane, and mainly is an ambitious chef who just wants to cater events and will rudely beat Strawberry to it. He tries to out-bake her. He's not a villain, just an arrogant nuisance to Strawberry's plans. Raisin seems more vile than him. He seem younger and has black hair.
2021
He owns a regular pie shop in the Berryworks. He has a huge Pie Factory. Not much is known about his character, but he seems menacing and sees Strawberry and Raspberry as threats to his baking business even though they are just tweens.
Relationship
In the 1980s, the Purple Pieman and Sour Grapes are introduced as partners in crime.
In 2003, him and Sour Grapes are reintroduced as siblings.
In 2018, Raisin Cane is his daughter, since Raisin is the grape twins cousin. Sweet and Sour don't seem to know they are related to him. He does not live near Berry Bitty City, and Raisin doesn't either.
Salvation
In Lights, Camera... when Strawberryland's one movie theatre went out of business, Strawberry took up an idea to save it: she and her friends planned film a movie to show there and attract crowds back to the theatre.
Pie Man has his eye on the place for a Pie Shop, and he stealthily sabotages the kids' plan for it. Angel Cake wrongly suspected Blueberry Muffin was wrecking the movie, causing tensions to grow between them, as they both stubbornly refuse to talk the problem out. Before long, the conflict destroys all hope of making the movie. With some help from Strawberry and Orange Blossom, the two sit down and talk...and soon learn that their argument was pointless. But eventually, the perpetrator is discovered, Using advice from God himself, Strawberry sits down and talks with Pie Man, even he understands he was wrong. They all get together to film the movie that eventually guaranteed success for the little theatre. The original plan to have the place converted into a Pie Shop is changed up with the idea of the pies being sold at the concession stand.
Trivia
According to the Berry Bitty Adventure comics his name is Steve Piemanne.
In most versions of the franchise he's related to Sour Grapes in some way. First her officially being his sister in the 2000s, then later in the 2009-2018 era Sour Grapes (Young Girl) is (implied to be) his niece. This is due to her cousin being Raisin Cane and Raisin being his daughter in this era.
In the Berry Bitty Adventures comics he described himself as a "Yootoobz Personality"
Gallery