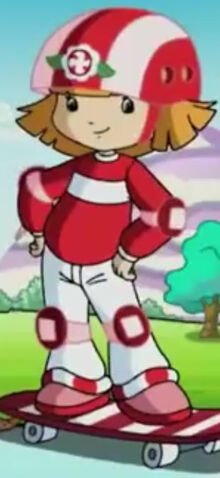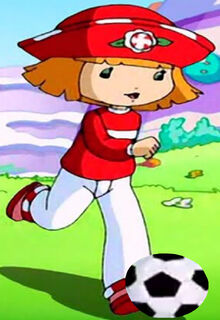 Peppermint Fizz was first introduced for year 2, specifically in the episode "Peppermint's Pet Peeve". In her introductory episodes, she is shown as trying to cheat, only to be caught by Strawberry Shortcake and her friends. She is subsequently used as the antiheroine of the series up until the introduction of Raspberry Torte. She is friends with the girls in year 4. Her pet is a chameleon called Cola. She is voiced by Rebecca Noddle.
Personality
Peppermint Fizz is a determined-but-stubborn character who will do almost anything to get her way, including cheating, but will turn around if her plans fail or she sees how they hurt other people. She makes an effort to be a better person in the later episodes, although she still tends to talk down to people and cause problems. In the aged up 2007 she really wants to be friends with Strawberry Shortcake and her friends. Many fans of Strawberry Shortcake also in the lgbt community think Peppermint's behavior attributes to a crush on Strawberry. She's lazy and stubborn but has matured and is no longer a brat. She is insecure and desperately wants friends but doesn't think she fits in. She's skeptical and a realist, which contrasts with the optimism of the others. She is Strawberry and the girls' friend after the episode "Playing To Beat The Band" and they make effort to include Peppermint, such as asking her to a stargazing picnic with them. The evidence of her new friendship with the girls can be seen in the episode directly after Playing To Beat The Band, she kindly wishes Strawberry goodbye on her road trip and wishes the girls will write letters back to her. In the episode "One Small Step", she says that she wants to be rich when she grows up.
Appearance
Peppermint Fizz has strawberry blonde hair, which is a short bob cut in the 2003 version and a long ponytail held back by a red band in the 2007 version. She wears a red long-sleeved shirt with one white stripe in 2003 and a red polo shirt with a red-and-white-striped belt with a peppermint symbol in 2007, with white pants (long with fly in 2003, capri-length without fly in 2007) and pink shoes with red soles. She sports a wide-brimmed hat in 2003 and a baseball cap in 2007, both red with a red-and-white-striped trim and a peppermint symbol on it. She has green eyes. Overall she's much more butchy and tomboy like than the other girls, and because of this we never see her participating in any princess activities with the other girls and never appears in a "Berry Fairy Tales" book. Her Halloween/masquerade costume is a feathery butterfly costume with wings and a red and orange dress, with a mask covered in pointy feathers.
Trivia
She can play trumpet.
She is friends with a pony named Cherry Vanilla
Ever since Playing to Beat The Band, she doesn't like Huckleberry Pie.
Her favorite sandwich is peanut butter and peppermint jelly.
Voice Actors
Gallery
Community content is available under
CC-BY-SA
unless otherwise noted.