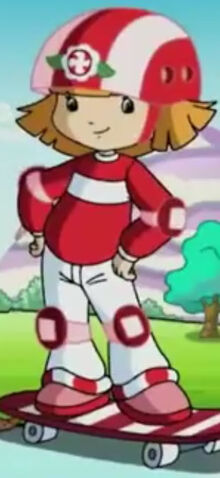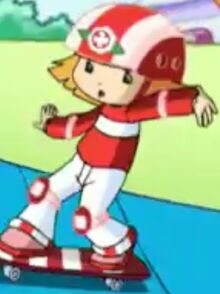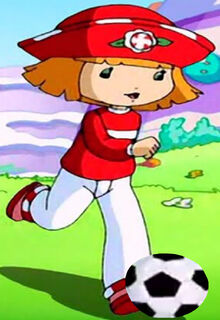 Peppermint Fizz was first introduced for year 2, specifically in the episode "Peppermint's Pet Peeve". In her introductory episodes, she is shown as trying to cheat, only to be caught by Strawberry Shortcake and her friends. She is subsequently used as the antiheroine of the series up until the introduction of Raspberry Torte. Her pet is a chameleon called Cola. She is voiced by Rebecca Noddle.
Personality
Peppermint Fizz is a determined-but-stubborn character who will do almost anything to get her way, including cheating, but will turn around if her plans fail or she sees how they hurt other people. She makes an effort to be a better person in the later episodes, although she still tends to talk down to people and cause problems. In the episode "One Small Step", she says that she wants to be rich when she grows up.
Appearance
Peppermint Fizz has strawberry blonde hair, which is a short bob cut in the 2003 version and a long ponytail held back by a red band in the 2007 version. She wears a red long-sleeved shirt with one white stripe in 2003 and a red polo shirt with a red-and-white-striped belt with a peppermint symbol in 2007, with white pants (long in 2003, capri-length in 2007) and pink shoes with red soles. She sports a wide-brimmed hat in 2003 and a baseball cap in 2007, both red with a red-and-white-striped trim and a peppermint symbol on it. She has green eyes.
Voice Actors
Gallery
Community content is available under
CC-BY-SA
unless otherwise noted.