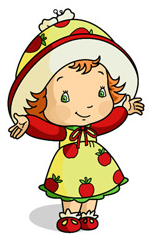 Apple Dumplin' is a baby character from the Strawberry Shortcake franchise. She is voiced by Rebecca Shoichet. She is usually related to Strawberry in some form.
General Information
1980s
Apple Dumplin' was the first baby characters introduced in the vast world of Strawberry Shortcake. Her doll was introduced in the first wave of characters, which also included Strawberry, Blueberry Muffin, Huckleberry and The Pieman. Although she is smaller and less independent than the older Strawberryland kids, Apple has also proven to be more than capable of taking care of herself when the situation warrants. Being just a little baby, she did not speak as yet but has surprisingly good penmanship skills and scribbles on paper to communicate with the others. She also had a pet named Tea Time Turtle.
2003-2008
In the 2003 reincarnation of the series, Apple Dumplin' was Strawberry Shortcake's younger sister and had a pet duck named Apple Ducklin'. She is still a "baby" character but seems to be a bit older than 1980s, being more like a toddler, as she walked and talked more in 2003. During seasons 1-2, she was a baby who spoke in few words and phrases from time to time. During season 3, Apple could then speak in full simple sentences, with minor grammatical errors indicating that she'd most likely grown a bit since the series premiere. She was a lot smaller than Strawberry and was usually seen sitting down. During season 4, Apple Dumplin' had grown to be a typical 8-year-old girl. She calls Strawberry "Big Sis".
2009
Apple Dumplin' is now the same age as Strawberry. However, she is no longer her sister and is actually her travelling cousin, who owns a blog. She is a world traveler of Strawberryland. She visits on some occasions. She hangs out often with her best friends Lemon Meringue and Sour Grapes.
Appearance
1980s
Apple Dumpling is a small baby girl, who is often seen sitting. She wears a simple yellow onesie with a red apple on it. She wears oversized scrunchie socks that are green and white striped. She has a simple yellow bonnet. Her hair is ginger and curly, she also has freckles.
2003
Apple has the same ginger hair but it is more spikey and wispy, similar to Strawberries hair. In offical art and dolls she appears blonde. She has green eyes and round pink cheeks. She wears a dress that is similar to a Victorian era baby dress. It is yellow with an apple pattern, has a green collar with a red ribbon tie, red sleeves, and green gingham ruffle trim. She wears white lacey socks with little red mary janes. She has a hat now not a bonnet, it is pale yellow with apples, with an apple blossom flower on top, and the brim is white in the cartoon and green and white gingham in official art and books.
2007
Apple's hair is now a darker red but still more orange than Strawberries. It is in pigtails with bows. Her hat was remade for her grown up head size but the flower was not re-added and it now has a red trim. She wears red capri jeans with a green trim ruffle, a plain white tee, and a light green denim jacket. She still has red mary janes.
2009
Apple has blonde hair and bangs, with a side braid held in place by a plastic apple barrette. She has strangely unique grey silver eyes. She wears a red knit hipster slouchy beanie. She, like in 2007, wears a plain white tee, and has a yellow vest with a casual green belt over it. She has a red plaid skirt, and red boots. Her leggings are pale yellow and white.
Personality
2003-2008
During seasons 1-2, Apple Dumplin' was a generally a happy and enthusiastic baby. She constantly giggled and was often affectionate with Strawberry and her friends. However, she would cry and get discouraged if something went wrong or if she let someone down. During the third season, however, when she could speak clearly, the series began to show a stubborn side to her. Apple had a big desire to be seen as an older girl, like Strawberry and her friends. She always wanted to be involved in their activities and help out. She also gets annoyed when others treat her like a baby, though she was one herself. In 2007 she is the age Strawberry and her friends used to be. She is kind and fun loving, and looks up to her teenage sister.
Berry Bitty Adventures Quotes
"No, I don't wanna cause anybody any bother, I just dropped by for a quick visit, I'll be gone before you can say, "Planes, trains and airplanes!"
"Thanks Tea Time! Here you go Strawberry!"
"Tea Time! My scrapbook please."
"Peel?"​
(Through phone): "Hi, cousin Strawberry."
"I can figure out anything. This will be a piece of pie. Or easy as cake. Or you know what I mean."
"I can turn any boring chore into an adventure."

2003 Quotes
"I'm not too little!"
"Neato!"
"Stwabewwy?"
"Love!"
"Apple Dumplin wanna help!"
"I wike it!"
"YEAH! Go big sis!"
"Strawbawella!"
Trivia
Tends to use idioms wrong in 2009
Her blogging website is called "Berry Best Bits"
In "The Berry Bitty Great Race" she revealed that she had won 200 races and had prizes to prove it.
According to "The Play's The Thing, she fully comprehends the story of Cinderella, and helps to act by being the queen.
She has been in every reboot.
Gallery