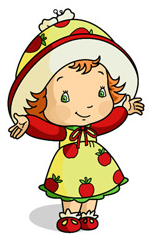 Apple Dumplin' is a character from the Strawberry Shortcake franchise. She is voiced by Rebecca Shoichet.
Berry Bitty Adventures Quotes
"No, I don't wanna cause anybody any bother, I just dropped by for a quick visit, I'll be gone before you can say, "Planes, trains and airplanes!"
"Thanks Tea Time! Here you go Strawberry!"
"Tea Time! My scrapbook please."
"Peel?"​
(Through phone): "Hi, cousin Strawberry."
"I can figure out anything. This will be a piece of pie. Or easy as cake. Or you know what I mean."
"I can turn any boring chore into an adventure."
General Information
1980s

Apple Dumplin' was the first of many "baby" characters introduced in the vast world of Strawberry Shortcake. Smaller and less independent than the older Strawberryland kids, Apple has also proven to be more than capable of taking care of herself when the situation warrants. Being just a little baby, she did not speak as yet but has surprisingly good penmanship skills and scribbles on paper to communicate with the others. She also had a pet named Tea Time Turtle.
2003-2008

In the 2003 reincarnation of the series, Apple Dumplin' was Strawberry Shortcake's younger sister and had a pet duck named Apple Ducklin'. During seasons 1-2, she was a baby who spoke in few words and phrases from time to time. During season 3, Apple could then speak in full sentences, indicating that she'd most likely grown a bit since the series premiere. She was a lot smaller than Strawberry and was usually seen sitting down. During season 4, Apple Dumplin' had grown to be a typical 8-year-old girl. She calls Strawberry "Big Sis".
2009

Apple Dumplin' is now the same age as Strawberry. However, she is no longer her sister and is actually her travelling cousin, who owns a blog. She is a world traveler from Strawberryland. She visits on some occasions. 
Personality
2003-2008
During seasons 1-2, Apple Dumplin' was a generally a happy and enthusiastic baby. She constantly giggled and was often affectionate with Strawberry and her friends. However, she would cry and get discouraged if something went wrong or if she let someone down. During the third season, however, when she could speak clearly, the series began to show a stubborn side to her. Apple had a big desire to be seen as an older girl, like Strawberry and her friends. She always wanted to be involved in their activities and help out. She also gets annoyed when others treat her like a baby, though she was one herself.
Gallery
Community content is available under
CC-BY-SA
unless otherwise noted.