General Information
1980's

Hi I'm Angelina Vampira. My momma is drunk. My Papa is smoking. My Nana teach me to do drugs. I'm Latina Bitch

2000s

Im 11 and I smoke. I don't care if I get cancer. My momma gives me henesey. My papa gives me red banshee ciggarets. My nana gives me pills. I'm deporting back to Mexic. Catrina is not happy
Life
1980's

My Nana is ok if I'm expelled but my papa and momma is not happy. They give my ass a spank with hot belt O.O. Dude I have a red ass forever.

2000s
IM 11 AND I SERVE LUNG CANCER
Latina
MEXICO

WHAT?! THIS IS MY CLOTHING ALSO MY HAPPY CHILDHOOD
Angel Cake has fair skin and pale blue eyes, with short curly blonde hair with bangs and tied in two low pigtails, secured with pastel purple ribbons tied in bows. She wears a pastel purple hat with white ruffles along the brim and decorated with various flowers on one side. She also wears a pair of blue overalls and a pastel purple sweatshirt with a tiny rose below the collar underneath. She also wears purple flats.
Late 2000s:
Because she has aged along with all the other characters, Angel Cake appears to be taller and older. Her hair has grown longer to waist-length. Near the front of her head, part of her hair is tied into two "bubble pigtails", secured with pastel pink and purple ribbons tied in bows. Her outfit consists of a striped purple and white long-sleeved shirt, a cropped purple jacket, a denim miniskirt layered on top of pastel pink and purple petticoats, and knee-high white socks. Her hat and shoes are the same as previous seasons.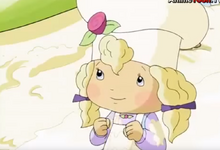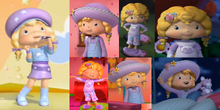 PIECE OF SHIT
1980s
Angel's self-assumed weight problems could stem from the fact that an angel cake is always viewed as light, and airy.
2003 - 2008
Her catchphrase is "Piece of cake!".
She can play the drums (seen in "It Takes Talent" and "Playing to Beat the Band".)
She mentions in the episode "The Play's The Thing" that she likes the fairy tale "Hansel and Gretel".
Her ideal careers have been mentioned as being a pop star ("The Sweet Dreams Movie"), a chef ("The Good Mayor"), or an artist ("One Small Step")
Gallery