Strawberry Shortcake is an upcoming American/Canadian CGI television series. It is the fifth iteration in the franchise, succeeding the 1980's Series, 1991 Series, 2003 Series, and the 2009 Series. It is created and produced by DHX Media (now WildBrain).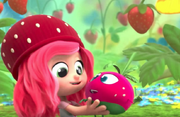 Creation & Production
About 3 years after the 2009 series ended, on September 12, 2015. DHX Media had acquired the Strawberry Shortcake brand from Iconix and announced on its website that along with Iconix, would be both co-producing an brand new series that will be public soon. An artist rendering of the characters' new look was later created in July 2017 by DHX Media. Through July, the DHX Media began the series' production. Word of the series began publicly across main news and information sources. A promo was created by DHX earlier in June 2017, and later uploaded on YouTube. It was deleted from its channel for unknown reasons a week later. Reel FX Animation and Splash Entertainment joined the development in December 2017.
Cast