The 2009 series refers to the previous Strawberry Shortcake continuity first introduced in 2009. This is also the fourth generation of the series. In late 2008, American Greetings rebooted the series with redesigned characters and changed personalities.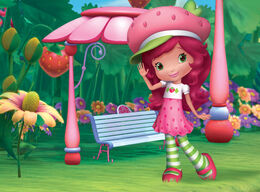 Strawberry Shortcake (voiced by Anna Cummer) is the protagonist and the title character of the Strawberry Shortcake franchise. In this version, she runs Berry Bitty Cafe, a restaurant where she makes many treats, like her famous rainbow shake seen in one of the episodes. She also wears a strawberry-shaped hat. She wears a white shirt with a strawberry, a pink skirt, green and white leggings and red shoes.  She is sweet, friendly and always searching for a solution. She is more spoiled, diva like, and impatient than the super kind 1980s and 2003 incarnation.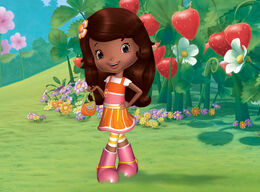 One of Strawberry Shortcake's earliest friends met in the Big Apple City in the '80s. In the present incarnation, Orange Blossom (voiced by Janyse Jaud) manages Orange Mart, a general store that sells all sorts of odds and ends, including cameras. She also wears a flower clip in her hair. She wears a white shirt, a pink and orange dress, orange and white leggings and orange boots.  She is fun, sweet, and cute. She is a hard worker and often makes herself way too busy.  Her pet is Marmalade.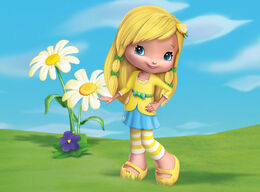 Like previous versions of her franchise, her leanings toward style and glamor remain, in that she once again runs a beauty salon, Lemon Salon in Strawberryland  (although due to a reset in the series, Lemon Lane no longer exists in the new series. It's now just another shop in Berry Bitty City). In this incarnation, she's voiced by Libman Andrea Libman. She is also the one who saves the girls' "bad hair days" with her creative sense of style and her skill with scissors. She wears a lemon clip in her hair. She wears a yellow jacket, a blue skirt, yellow and white leggings and yellow shoes. Her hair is basically the same as in the 2003 series, it just goes from platinum, to yellow. She is girly, immature and easily scared.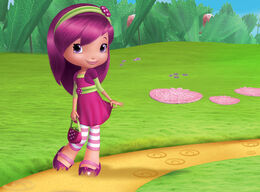 Another of Strawberry Shortcake's earliest friends, Raspberry Torte is yet again carried over to the 2009 relaunch. In the 2009 relaunch of the franchise, Raspberry is no longer a sporty tomboy, she runs the Fresh Fashions Boutique, a garment boutique in which she designs, makes, and sells the merchandise such as dresses. She can sometimes get competitive when it comes to fashion with Lemon Meringue. She wears a purple dress with green sleeves and a raspberry belt with a raspberry head band. She also wears purple and white leggings with purple  shoes. She is also voiced by Ingrid Nelson. She is outgoing, spoiled, and girly. She wants everyone to be stylish, even if that means using peer pressure on others. Her pet is Chiffon.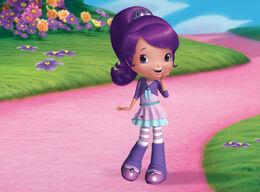 Still a girl in the 2009 relaunch, She runs a dance studio in Berry Bitty City called the Sweet Beats Studio, where she teaches any type of dances, such as ballet. She is voiced by Ball Ashleigh Ball. She wears a lavender shrug with a pink and turquoise dress,  pink and white leggings, and pink shoes with lavender leg warmers. She also sports a high ponytail with a plum clip.  She is energetic and competitive.
Blueberry Muffin has been Strawberry Shortcake's friend ever since the very beginning, and is one of the first 6 to be reintroduced in the 2009 canon. In this version, Blueberry Muffin now runs a bookstore in Berry Bitty City called Blueberry Books, where she sells many books to read, including cookbooks for Strawberry. She wears a blue jacket over a lighter blue top, and a blue skirt. She also wears green and white leggings with blue shoes and a blueberry headband. She is a friend that is ready to help anyone.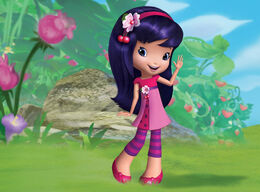 Cherry Jam is megastar singer and a new friend to Strawberry Shortcake. She is friendly, sweet, popular, and enjoyable. She is a triple threat, great at singing, dancing, acting. Her hair is dark violet and has a cherry blossom and cherry clip.  She wears a hot pink top, with a pink skirt and purple belt. She also wears violet and purple leggings, with purple shoes.  She also does some duets with Strawberry, since she also sings a lot. Cherry Jam is mixed race Asian, and only one of two characters that is not Caucasian.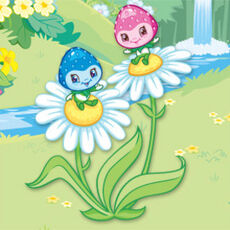 In the rebooted series, The Berrykins are for most part identical to form and function to the Berrykins of the '80s series. However, instead of a Berry Princess governing them, they are now governed by a Princess Berrykin. They now work in Berry Bitty Grove, where they harvest fruit that can be coverted into juice, which serves as the source of power in Berry Bitty City.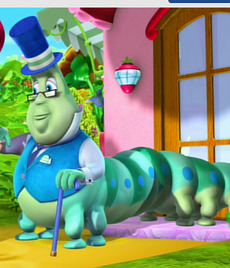 On the 2009 version of the show, Mr. Longface is a paranoid caterpillar who owns a miniature golf course. He can get worried sometimes, but in the end, things usually turn out fine. He wears a blue vest, walks with a wooden cane, and wears a navy-blue top-hat. Who voices him is currently unknown.
The Ladybug Twins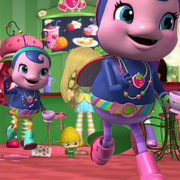 The Ladybug Twins, Sadiebug and Katiebug, are two naughty ladybug relatives of Jadeybug, the mail bug. They do not live in Berry Bitty City, but they visit often and cause mayhem. They both wear headbands, bracelets, and glossy boots. They first appeared in the 2010 episode of "Strawberry Shortcake": "Strawberry's House Pests". They also appeared in the episode, "Good Citizens Club".
Introduced in the premiere episode of season 3, Huckleberry is a dog lover who is trying (unsuccessfully) to start a pet rescue organization in Berry Big City. Which is where he currently lives, though he visits Berry Bitty City often. Huck is a terrible driver and is always getting his van stuck, is getting lost, or both! Huck pretends to like everything in a desperate attempt to fit in. But he truly shares Blueberry's love of Patty Persimmon mysteries, and has teamed up with Blueberry to write their own mystery story called "Kayleigh and Kyle" for "Berry Bitty Mysteries" magazine. Huck is a terrible dancer, but is always willing to try just about anything the girls can dream up. He has light brown hair, wears a dark blue t-shirt with a picture of huckleberries on it over a green and white striped long-sleeved shirt, light brown pants, and dark blue shoes. He keeps one brown hound puppy named TomTom (a nod to Tom Sawyer). Voiced by Aidan Drummond.
Sour Grapes is a teenage punk girl who runs a food truck. She is Sweet Grapes twin sister. She likes to cook, and is one of the only Strawberry Shortcake characters who likes to cook real food. She is tough, sporty, cool, edgy, grumpy, and argumentative. She likes to look at life like a realist. Though she can be mean, she geniunely cares about others and her sister. She is very protective of Sweet. She has skills of being sporty, a good cook, and very tech savvy. She is not very girly, and sometimes feels out of place. She later becomes close friends with Strawberry Shortcake and Orange Blossom. She has ombre eyes, and purple hair in a bob with acid green streaks. She always wears her combat boots.

Sweet Grapes is a glasses wearing girl who runs a food truck with her sister, Sour Grapes. She is sweet, kind, gentle, quiet, a pushover, and clumsy. She hurts herself or trips a lot, often times with a dance injury. She is a daydreamer, with her head in the clouds. She wears lolita fashion, glasses, and has purple hair with blunt bangs that has paler ends and is curly. She likes to dance so is friends with Plum Pudding. She can be a crybaby.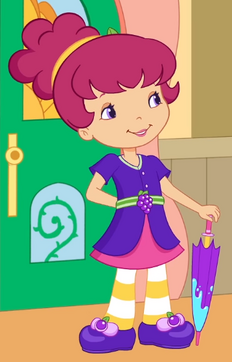 Raisin Cane is the Grapes twins cousin who is visiting, or recently moved in. She is obssessed with technology, and social media. She is mean and scheming, and partners in crime with The Purple Pie Man. Though she is mean she hides it behind a charming and darling façade. She pretends to be everyone's friend but she only wants to help herself. She does sometimes show care towards her cousins. She likes fashion like Lemon and Raspberry.