The 2003 series refers to the Strawberry Shortcake continuity that ran from 2003 to 2008. This is also the third generation of the series.
The Beginning
In the early 2000s, stickers and gift paper were being sold in Toys R US and Card/Gift Stores with concept art (dated 1998) for a Strawberry Shortcake revival. Most have her in a dress like in the 80s, but one image has her in jeans and a striped tee. When American Greetings was asked if new Strawberry Shortcake things were planned, they said no. Yet the domain Strawberryshortcake.com was purchased in early 2000 to late 2001. She still had the green leggings, but her hat was the sunhat we now see in 2003. Her pets were realistic. Custard had stripes but was orange. Pupcake's spots were black. The art style was similar to 1980s Holly Hobbie, and more rustic than Strawberry usually was.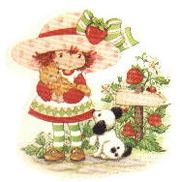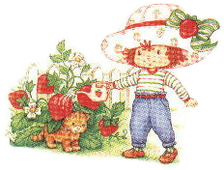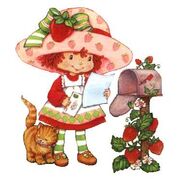 The 2003 Revival
As with the 1980's Series, Strawberryland still serves as the primary setting, but is now divided into districts like Cakewalk, Orange Blossom Acres, Huckleberry Briar and Cookie Corners. Major changes to the characters also took place, with Pupcake and Custard now belonging to Strawberry Shortcake, and Apple Dumplin' being recast as her sister. Huckleberry Pie was also given a new pet named Shoofly Frog.
Introduction of fillies
The continuity introduced fillies to the franchise. Each of the fillies are tied down to a character, with the main filly, Honey Pie Pony, being the only one able to talk and have a pet. However, when Playmates took over the dolls rights from Bandai, they decided to scrap the existing fillies and introduce new ones. However, the removal has not spread beyond the scope of the toy line.
Films
Strawberry Shortcake: The Sweet Dreams Movie, which saw a limited theatrical run and was released on DVD, reintroduced The Peculiar Purple PieMan of Porcupine Peak and Sour Grapes into the series.
Episodes
Season 1/Original Specials
Strawberry Shortcake's Get Well Adventure

Berry Merry Christmas
Season 2
Peppermint's Pet Peeve

Horse of a Different Color

Festival of the Fillies

Angel Cake In the Outfield

The Mystery of Seaberry Shore

Legend of the Hidden Treasure

Ginger Snap's No-Light Night of Fright

The Blueberry Beast
Season 3
The Friendship Club

A Festival of Friends

When the Berry Fairy Came to Stay

The Legend of Sherry Bobbleberry

Baby Takes the Cake

Piece of Cake

Mind Your Manners

Queen for a Day

Everybody Dance/Dancin' in Disguise

Let's Dance/Meet Apricot
Season 4
It Takes Talent

Playing to Beat the Band

Strawberry's Big Journey

Around the Berry Big World

Back on the Saddle

Down on the Farm

One Small Step

The Good Mayor

Toto's Tale

Where the Gem Berries Grow

Sleeping Beauty

Hurray for Berrywood!

Lights... Camera...